Massive game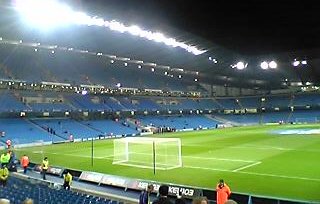 It's a massive stadium for a massive club and a massive game for the Addicks tomorrow against a club just above them in the table. Our away record against them has been quite good apart from last year's 4-0 tonking and included a highly enjoyable 4-1 victory at Maine Road. This saw the humiliation of the so called great white hope of goalkeeping, Nicky Weaver, who had given it large to the Covered End in the home fixture.
The Times Fink Tank gives a 60% chance of a home win. City have won their last four games at home, but I think that the Addicks could well come away with at least a point.
The Massives are without former Charlton player Danny Mills who is injured and for the Addicks Matt Holland is unlikely to be fit. The team could therefore be very similar to the one that defeated Liverpool midweek.
Erith Addick Paul May will be covering the match for this blog and with both Hooch the Pooch and Homer the Cherry Hound on holiday there will be no canine reporter, Monty Martin being judged too excitable for such a massive stadium.