Ten Years Ago: Charlton go fourth
This ten years ago feature comes a little early as I am off to Washington DC tomorrow until early next week. On Friday evening I have been invited to the deputy ambassador's residence for a reception - and his name is the appropriate Alan Charlton.
A 2-1 victory against Huddersfield on 2 September 1995 put the Addicks 4th in the Division 1 table. My notes recall, 'Charlton started in spirited fashion and nearly had an early goal, but Huddersfield were dangerous in the air. Shaun Newton scored his first goal, a great volley.'
'After half-time Huddersfield came back with renewed vigour and nearly scored. Jamie Stuart got his first goal, but Lee Bowyer missed a penalty. (My memory is that he won the penalty and then claimed it for himself, taking it too quickly). Huddersfield came back with a late goal.'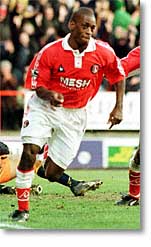 'Twenty questions' featured Keith Jones (pictured) who revealed that his least favourite ground was Wigan. He was last heard of as assistant manager at Tooting and Mitcham. There was also a special feature on John Robinson.
Things were also looking up for Curbs who was presented with a N registration 1.8GLX Ford Mondeo in Charlton red. Laidlaw also left another car for Les Reed, but the make was not specified, so perhaps he had to make do with a Fiesta.