Dowie starts mind games
Crystal Palace manager Iain Dowie has already started the mind games ahead of next Sunday's clash between the Addicks and their Croydon rivals. He told
Football First
that any one of ten teams could be relegated from the Barclays Premiership, going on to name Charlton as one possibility. 'I don't think there is a cut-off point. Charlton were looking good but they have lost the last two games and it makes a difference. I think anybody from ninth, maybe 10th, has got to be concerned about going down - there will be a lot of teams involved.'
This is just the sort of remark that will prey on the minds of Charlton supporters who think that defeats by Chelsea and Manchester United indicate a relegation struggle, forgetting that we dispatched Norwich by the same score that Chelsea dispatched us. I am sticking to the prediction of a 12th place finish for the Addicks I made at the beginning of the season.
This is going to sound like one of Peter Varney's 'why we must be nice to the boys from our neighbouring school' homilies, but Palace do have some things going for them. One of them is Iain Dowie who is clearly an astute manager, proving that he can turn 'rubbish into power' to quote the slogan that used to be on the waste recycling facility near the New Den. In Andy Johnson, who has scored nine goals, this season, Palace have one of the more impressive strikers in the Premiership. JJ is our top scorer in the league with three goals, followed by a disparate group that include Jeffers (when he was let out), striker manqué Luke Young and that famous Welsh international, Owen Goal. So it's not going to be straightforward at Selhurst Park.
Special competition
It has been reported that the club has decided not to go ahead with a special 'Why I respect Crystal Palace competition' to commemorate the happy years spent at Selhurst Park. It's not that the promised prize of a replica wooden bench from the Arthur Wait stand put people off, but rather that no one could work out the answer to the tie breaker question 'In which part of London is Crystal Palace football club located?' Croydon was rejected as too general and Norbury and Thornton Heath as too imprecise. This page is prepared to offer a small prize for anyone prepared to come up with an answer that is both accurate and amusing. Keep it clean please: any offensive answers will be reported to Peter Varney.
Fans' spirits have been lifted by the news that the tone of the match will be raised by the presence of His Worship the Mayor of Welling, Councillor Rick Everitt. The Rickster has had a low profile recently, no doubt because he has been working on helping to write Keith Peacock's autobiography which was selling well in the club shop on Saturday.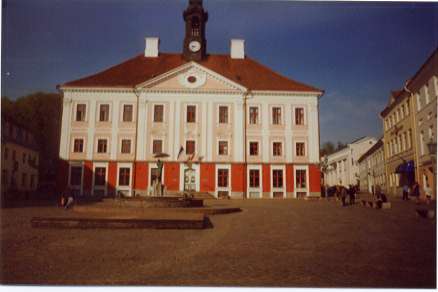 The official residence of the Mayor of Welling: bet you haven't got anything like that in Norbury