Has Young failed medical?
The
Daily Mirror
is carrying a report that Luke Young is not going to West Ham because he has failed his medical. If this is true, there would be a certain irony as Charlton have signed a number of players in recent years who turned out to be crocks. Whilst I would like Luke Young to stay, I see no advantage in retaining discontented players and if Young doesn't leave now, he may well leave in the January transfer window. A return to White Hart Lane remains a possibility.
I don't whether to laugh or cry but whingers are already having a go at Iain Dowie, one complaint being that he dared to take a family holiday! Complaints are being made about the speed of signings, but I am more interested in the quality of signings than their timing.
Work takes me to Japan on Thursday and I am confident that by the time I return on July 16th, exhausted by jet lag and representing the UK at an international congress, some interesting new signings will have arrived at Sparrows Lane.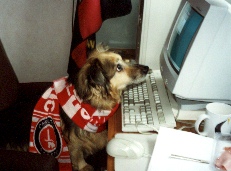 Bob the Dog, the pioneer of canine football reporting
Unfortunately, unlike the late Bob the Dog, our current dog reporters are not computer savvy, so there will be no reports while I am in Japan where I will have my work out coping with the humidity, the food, my lack of knowledge of the language and the demands of the American delegation.