Ten years ago: guess who we played?
I think it's the case that Charlton have played Portsmouth more than any other time which is a pretty dismal state of affairs when you think about it, even allowing the fact that Pompey were a stronger team historically than they are these days. Ten years ago Fratton Park was even more old fashioned than it is today which is saying something.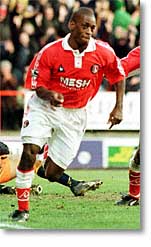 Keith Jones - stretchered off
My notes recall, 'We started well and went 1-0 up through an own goal. But then Keith Jones was stretchered off with what turned out later to be a fractured cheekbone. We then lost some of our cohesion and Pompey equalised just before half time.'
'Against the usual pattern, our play in the second half was worse and only some saves by Salmon kept the scoreline down to 2-1. Really only Balmer and Robinson had a decent game. We missed Bowyer and Morts was disappointing as was Newton who came on as a substitute.'
Luke Young
A story on the club website says that he is happy at Charlton and wants to stay. No one would be more delighted than me if that turns out to be the case. With time more has come to be understood about the events surrounding Danny Murphy's departure. But the way in which the matter was handled from a public relations perspective did not enhance confidence among fans. Hence, there tends to be less belief that what the club says is definitive.