Hard task at Anfield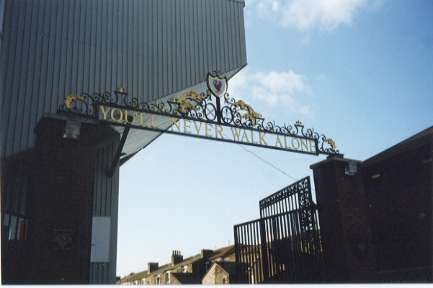 The first match at The Valley that I have a clear memory of was 6-0 defeat of Liverpool in the 1953-4 when they were relegated. Later in that season we beat them 3-2 at Anfield and we didn't beat them again until 2003-4 with a goal scored by Bartlett. We did draw 3-3 in our first Premiership season and might well have won if the referee, a shopping mall manager on a day out (later shoved over by di Canio) had not called back Andy Hunt for a free kick when he was through on goal.
So it's a big task today with Gerrard back for Liverpool. They are a different side without him as we saw at The Valley. Hopefully, Darren Bent can score a goal at Anfield today, although some of the criticism he has taken in the media this week has been harsh. How many goals has Defoe scored this season? I just hope the man mountain doesn't score against us today as I still can't take him seriously as one of our best strikers.
It will be the old 4-5-1 I expect with Marcus Bent on the right. As far as I know, Romm is not available and probably not Thomas as well, denying us our most exciting combination. The Sub-Standard actually forecasts a draw, but I am going for 2-1 to 'Pool, hoping that it won't be worse than that.
Congratulations to the Addicks who are making the journey to the north-west where we have done so badly this season. Among them is Paul May for whom alcohol seems to produce lucidity in his match reports. I will be going to High Wycombe tomorrow to cover the women's league cup final, our first chance of silverware this season.
This afternoon, provided we don't have more snow, I am hoping to see Leamington v. Straford Town with the Bardsmen being led out by their barmy manager with his caped crusader outfit. Although a derby, Warwickshire Police will probably not deploy their mobile CCTV outfit as they do for all ticket matches against the Gee Gees (Racing Club Warwick). Granddaughter Clarissa Hands will be accompanying us and we will be the only Charlton blog providing a match report!