Ten years ago: the ultimate up and down week
What an up and down week it was for the Addickted ten years ago. On Tuesday we played Southend at home (who were 7th compared with our 3rd place). My notes recall, 'A very hesitant start, no surprise when Southend went 1-0 up thanks to a defensive mistake by Jamie Stuart. Balmer had to be taken off at half time. Southend slammed in another two and all our frantic efforts could not redeem the situation. The worst Charlton performance I have seen, something was wrong.'
On Saturday we faced the Spanners at home. Curbs admitted in the programme, 'Recently we have been disrupted by injuries and suspensions and in some areas the cracks have started to appear.' He admitted, 'we certainly didn't deserve anything [against the Shrimpers]. When you take into account that we had eighteen corners, hit the post and bar ... it was all to no avail if you concede goals like we did and it is something we have got to rectify.'
The programme had a thrilling article on how it was produced, featuring the role of editor 'Scoop' Burrowes. Astonished readers were informed that the production process involved computers (illustrated by someone working on one) and the use of printers (cue photo of printing machinery). We hear quite a bit of grumbling about the programme, and many people won't buy it, but it has come on leaps and bounds over the years.
It was a cold, dank day for the match against Millwall. 'Charlton went ahead with an early Bowyer goal. Some Millwall fans were then detected in our stand. Chris Whyte, the new signing [a free from Birmingham] was a solid defender and Leaburn was always a target. Sturgess was a great replacement for Stuart.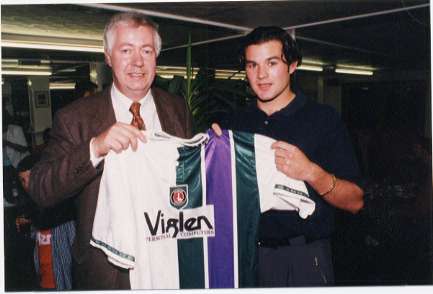 Wyn Grant displays an exciting new Viglen shirt with Paul Sturgess for the benefit of photographer Tom Morris
'Only Newton seemed to be off form. Nevertheless, the whinger in the row behind me was in fine grumbling form. Leaburn scored a second goal on 89 minutes, a sign for Millwall fans to stream out into Floyd Road looking for ag.' So Charlton completed the double over Millwall, 4-0 in aggregate. There were 12 arrests and 15 ejections at the game.