Guide to Championship Grounds: No.1 - the Ricoh
Given that it is now many years since Charlton have been in the Championship, we thought that it might be a useful service to readers to refresh their memories about Championship clubs and grounds. Indeed, there have been some new stadiums since we left what was then Division 1, one being my nearest Football League club: Coventry City and the Ricoh Stadium.
The sky is not blue
We have had our days at the old Highfield Road ground, now replaced by housing, including a FA Cup fifth round tie in January 2000 when we came back from 2-0 down to beat the Sky Blues 3-2 with goals from Newts, Robbo and Andy Hunt. The Sky Blue supporters could not believe what they were seeing, as our pictures illustrate.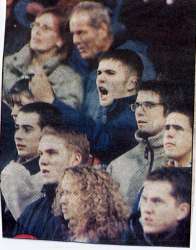 I was at the Ricoh stadium filming for a video on football last week and it is certainly impressive, particularly in terms of the exhibition and conference facilities. Rather curiously, the stadium management wouldn't let us mention Coventry City Football Club. The stadium itself also looks good with a 32,000 capacity, but unfortunately it is usually only about half full and I'm told that the atmosphere is terrible.
It's very near the M6, but although the car parking is adequate for conferences, it wouldn't be for a match and it must be a nightmare to get out. Because of the location there isn't much street parking nearby, nor are there schools which might make some money out of offering match day parking. It's also a long way from Coventry Station.
For many years Coventry occupied a regular position in the lower reaches of the Premiership, often seemingly in danger of relegation, but fulfilling the mantra of their fans 'We never go down'. Eventually they did and they have shown no real sign of going back up again. Even their mid-table Championship place now seems in danger after a recent bad run. Yesterday they lost 2-4 at home to Palace. They could yet be sucked into a relegation struggle.
People in Leamington are more likely to be supporters of Villa or the Baggies than Coventry. As the Leamington song goes, 'Are you watching Coventreee? You're having a laugh. We're watching Leamington FCeeee.' But admittedly, playing most of their first team, they did trounce Leamington 5-0 in the mayoral cup last year.
Coventry is a once propserous manufacturing city that has gone through some hard times because of deindustrialisation. The Ricoh was an economic regeneration project and in that sense it seems to be working, but it hasn't done anything to regenerate the level of football on offer.