Walking in a Windmill Wonderland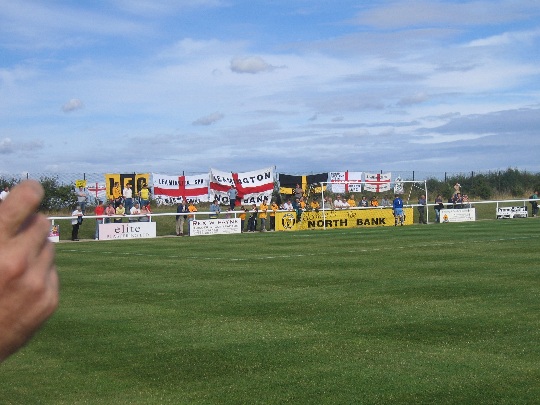 Looking towards the North Bank at the New Windmill Ground
It was a tightly fought contest between the Brakes and the Ravens at the New Windmill Ground this afternoon as would expect between teams placed 6th and 5th in the Harvey World Travel Midland Alliance. The towering presence of Tyrone Mintus in Coalville's defence broke up many promising attacks. But the magical deftness of Josh Blake allowed the crowd to break into the Windmill Wonderland song when he scored a cracking goal in the 44th minute.
Referee S J Cook had to go off with a calf injury at half time and one of the Hancock brothers had to retrieve his lino's kit from his car and officiate on the Sheepside to chants of 'dodgy lino'.
Brakes seemed a bit casual in the second half and needed some stiffening which was provided by the arrival of veteran Paul Eden and former Coventry City and Inverness Caledonian Thistle ace Leon Morgan from the bench. They combined to outwit Mintus in the defence with Morgan making it 2-0 to the Brakes in the 84th minute.