Monty to be dropped as match analyst?
As third ranking match analyst, Monty Martin was given the task of covering Charlton's cup games this year in the anticipation that the Addicks would not go too far. The excitable spaniel has been given time off from his day job as meeter 'n' greeter at Didcot sign company Kingdom Signs for his big day on Thursday.
However, now second ranked match analyst Homer the Cherry Hound has objected. 'It's one thing running up and down the line yapping as Blewbury play in the North Berks league', objected the Chilton, Oxon based labrador. 'I can even see a role for him at Didcot Town, but this is Charlton's most vital match in recent years.'
Monty's case was not helped when he went for a training walk in Blewbury on Sunday afternoon. Last Thursday he was given a special grooming ready for the big match. But while on his walk he ran off and splashed around in a muddy stream leaving himself in a condition not fit for the press box at The Valley.
However, the decision rests with senior match analyst, Hooch the Pooch. 'I am going to take a bath and think about it', he said. No bad idea given that journos have alleged that he has a hygiene problem.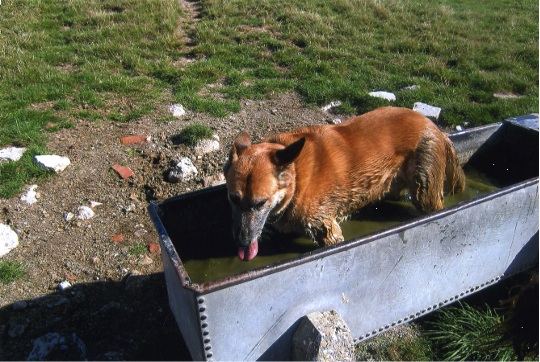 Hooch the Pooch takes a bath and ponders Monty's fate