All set for our 1000th top level game
I must admit that I am no statto, although I admire what people like Colin Cameron do. I once covered a youth match at Rushden and Diamonds versus Charlton for the
Mercury
and Colin questioned me closely about whether the last goal had been scored or pushed in by the keeper. Now it appears that our match at St.James's Park tomorrow is our 1,000th in the top flight (either Division 1 or Premiership). I owe this information to an Addick in Spain who has started one of the latest Charlton related blogs. See
Nelson
.
Our record away against the Barcodes in the Premiership has not been that good. After drawing 0-0 in our first season in the Premiership despite Richard Rufus being sent off, an early goal by Graham Stuart gave us a 1-0 victory when we returned to the Premiership. But then we had a run of three defeats, only offset by last year's draw.
Curbs sees it as a chance to put our away form back on track and let's hope he's right. He hinted before the Brentford game that he would change things around a bit given that we had three matches in a week. Hopefully the double Bent formation will be back in operation up front (if we sign Dicker and win 3-0 in future we can anticipate as a headline 'Double Bent Dickie Scores').
Chris Powell could be dropped from the defence. Most imaginatively, HH could move to left back and either El Karkouri or Spector could come in as centre back, the latter being happier in that slot. I would be surprised if El K doesn't feature at least on the bench.
In midfield, one would like to see Ambrose given a start at his former club. I would actually put Smertin on the bench as I don't think the Russian has been as impressive recently. His runs from one side of the field to another keeping control of the ball look good but don't lead to anything and he certainly can't shoot. Kishishev and Hughes are likely to retain their places along with Thomas.
The Barcodes have had a bit of a recovery since the departure of Souness, so let's hope we can halt it in its tracks and come away with at least a point.
Olafur is back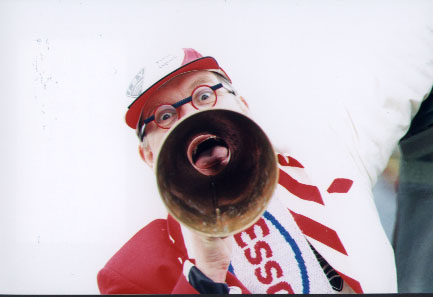 Yes, it's your old pal Olafur ready to write the report of the Newcastle match at the invitation of Mr Wim Grant. I am still living in Grindavik and you may think that it is cold in the land of the Geordie with the north-east wind blowing at this time of year, but that is nothing compared to Grindavik. You may remember that my stay in England was brought to an end when I lost not just all my fish but the van they were in when I tried to do a deal with young entrepreneurs in Liverpool when I went to a match at Everton. But things are not so bad. My wife's cousin is still the president of our country and now his partner is a very stylish Israeli lady.
The team has changed quite a bit since I last saw them, but my hero Hermann Hreidarsson is still there. But it is confusing with two Mr Bents up front. Why not use the Icelandic way of naming the son after the first name of the father? So if Darren Bent had a son he would be called Darrensson and if Marcus Bent had a son he would be Marcusson. Problem solved! All we need to know now are the names of the fathers of the Bents.